The Accelerate strategy is our response to an industry undergoing unprecedented change and is designed to maximize the significant opportunities presented by current and future automotive trends.
---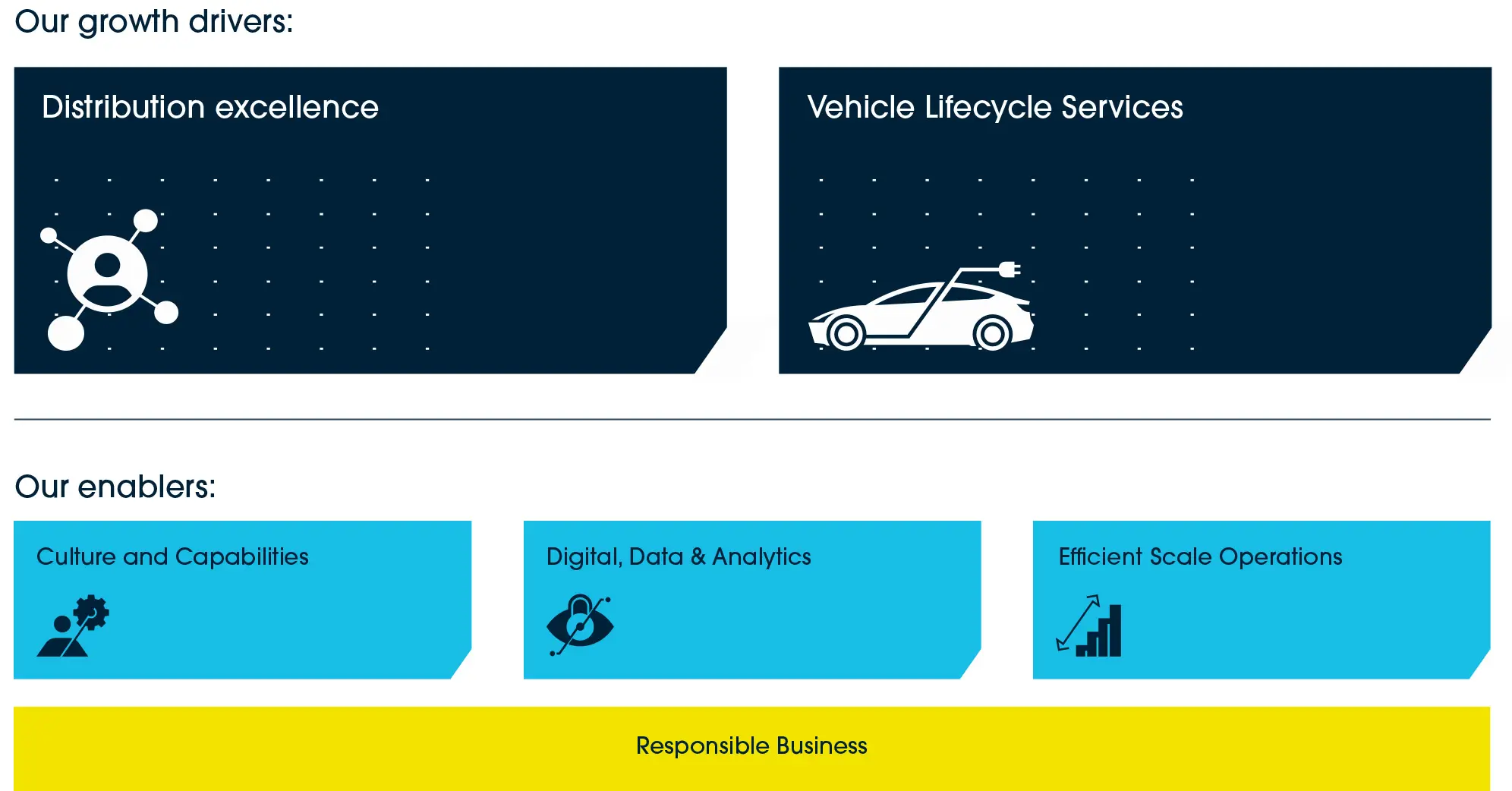 Our ambition is to become the undisputed number one distribution partner for automotive manufacturers, the employer of choice for current and future employees and the stock of choice for our investors.
Underpinning our business operations is our Responsible Business strategy and 'Driving What Matters' plan through which we aim to make a positive contribution to the communities in which we operate and to society at large.
The automotive industry is going through rapid change, from the increasing electrification and automation of vehicles to the elevated need for our industry to respond to climate change and sustainability. By 2030, we expect electric vehicle sales to increase to more than 30% worldwide, and the move away from internal combustion is accelerated further when we factor in hybrid, hydrogen, and other alternative powertrains
Our industry is increasing its focus on the environment and society; in addition to the electrification of vehicles, we must also address resource scarcity and waste.
Accelerate outlines two key growth drivers that will power our growth – Distribution Excellence and Vehicle Lifecycle Services.
Distribution Excellence is our approach to continuing as the undisputed, number one distribution partner for our global OEM partners. The focus of Distribution Excellence is to drive better performance in our operations, deliver an exceptional customer experience, attract the best talent to our organization and deliver excellent results.
We will deliver this through a focus on building the right culture and capabilities in Inchcape, by developing our digital data and analytics capabilities and ensuring our operations operations are as efficient as possible
Vehicle Lifecycle Services (or VLS) is our second driver of growth. VLS focuses on how we expand the role we play through new and complementary products and services during a vehicle's life. There is increasing value to be created in the second and third phase of a vehicle's lifecycle; and we believe Inchcape's existing assets, relationships and expertise give us the platform to capture more of this value.